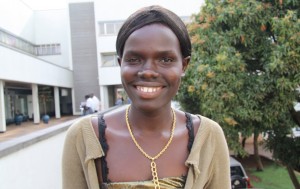 Akello Susan holds "O"&"A" – Level certificates of secondary education; three months Certificates in HIV/AIDS Counseling; Human rights and in project Management.
Akello joined Hope Ofiriha in November 2011 to become the Field Coordinator for Magwi County as Staff member. As such, she is responsible for overall project management, capacity building, and representation.  She has two years of experience in designing, implementing, and managing small scale projects in Bweyele Refugee Camp, Uganda. And she also has skills in a number of areas including HIV/AIDs Awareness, and Human rights promotion with special focus on children and women.
Akello is an experienced trainer in small scale project management, village governance, women leadership and grass root organizational development and management, and she excels when she was campaigning for HIV/AIDS Awareness as a volunteer with African Action Aid. As a result of her exposure and experience of living in Uganda, Akello commands more than three languages.
In the past, Akello worked for Hope Ofiriha in Uganda as a volunteer, where she coordinated and managed two projects, primarily with focused on child sponsorship. She also managed the teams implementing HIV/AIDS Awareness in south Sudan through frequent visits.
As a result of her great passion in local human rights issues, Akello was selected by women to speak on their behalf, and help them fight the extreme poverty. She is moving to work in Omilling after the new year.