Hope Ofiriha's Onura Maternal Survival Project will save the lives of hundreds of mothers and babies. The project will fund the supplies midwives need to deliver babies safely. It also will train midwives to deal with childbirth complications.
The Challenge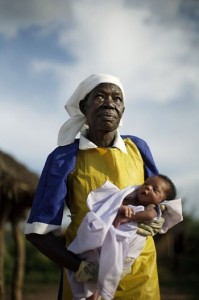 The maternal mortality rate in South Sudan is one of the highest in the world. An absence of trained healthcare staff, structures, and paved roads means the small, rustic maternity clinic Hope Ofiriha runs in the Onura settlement is the only medical facility about 3,500 area women can turn to give birth. The clinic isn't fully equipped to handle deliveries, so many mothers needlessly die giving birth.
Our Solution
Our Onura Maternal Survival Project pays for sterile supplies, such as delivery tool kits, syringes, gowns, gloves, maternity pads, umbilical cord clamps, and forceps. Hope Ofiriha hopes to raise enough money to buy a 1,200 EURO/$1,500 childbirth delivery bed soon. The project also trains midwives to handle delivery complications and provide prenatal and postnatal care, newborn care, and family planning services.
Potential Long-Term Impact
Making sure mothers have midwifes with them during delivery who have the supplies and skills needed to deliver babies safely stops childbirth from being a death sentence for so many women. When a mother survives childbirth, the health of her newborn and entire family improves.