Polly Amitto is an amazing orphan who is nearing completion of her "A" level studies in spite of caring for five younger siblings and working as a hairdresser. She is due to start her university studies next year. Please sponsor Polly so she can continue her education, achieve her dream of becoming a nurse or doctor, and be able to help her siblings escape a life-time cycle of poverty.
Child Details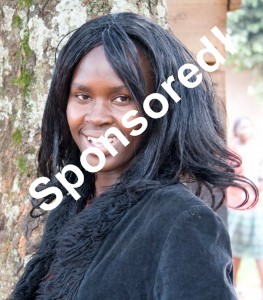 First Name: Polly
Last Name: Amitto
Gender: Female
Country: Uganda
Lives with: Her younger siblings
Date of Birth: October 14, 1992
Favorite Activity: Singing and playing basketball
Monthly Sponsorship Amount: 26 EURO/U.S. $35 Per Month (boarding school option)
Personal and Family Information
After both of her parents died, Polly and her two younger brothers and three younger sisters went to live in the Kakira slum outside of Kampala, Uganda. No family or friends stepped forward to care for the children. The children started a hair salon to generate income for school fees, house rent, and food. They didn't have enough resources and training, however, to compete with other salons, so their business went under and they ended up homeless and hungry.
A woman who is a microloan beneficiary in our Kampala project introduced Polly to Hope Ofiriha. Since then, Hope Ofiriha has been providing for the children's basic needs and working to find Polly a sponsor. Polly needs your love and support, so she can complete her "A" level studies, continue on to university, and help her siblings escape a life-time cycle of poverty. She hopes to become a nurse or doctor who will be able to help many people in the future. Your monthly support will pay her school fees and provide her with food, clothes, and medical care.
Please pick a donation option in the menu above and then click the "Sponsor This Child" button to become her sponsor right now!