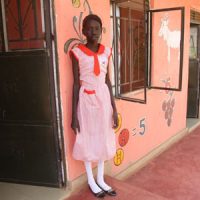 Thegele Jacob
Age: 14
Gender: Female
Location: Kajjansi, Wakiso district, Uganda
---
Personal Information
Thegele Jacob is a South Sudanese refugee living in Kajjansi ghetto, Uganda. She lacks necessary things, such as shoes, a bed, with bed-sheets, and blankets and has nearly no spare clothes. Thegele is an excellent student with great potential. She needs your love and support, so she can go to boarding school, avoid extreme poverty, and achieve her dreams.
Thegele, her siblings, and her parents fled a South Sudanese war in 2013 and had been living in Kajjansi slum, in the outskirt of Kampala, Uganda. Her parents had been applying to work around, but, as refugees, and uneducated, no employer shortlisted her parents for an interview. Her father does odd jobs to get by, and her mother does laundry. Their combined income, however, cannot cover house rent, food and medical care, let alone the cost of education. Thegele and her siblings are not in school because her parents have no money to pay the fees. If they do not return soon will be left behind. In Uganda, parents or guardians must pay school fees to fund school buildings, books, writing materials, school meals, and uniforms.
Thegele is a good student and needs your assistance, so she can go to boarding school to escape a cycle of poverty. She was, recently, suspended from her former school due to unpaid fees and will fall behind if she does not return to school soon. Your monthly support will pay her school fees; provide her with food, clothes, and medical care; and prevent her from having to work odd jobs during school hours to help support her family.
By sponsoring a refugee child, you will join more than 3000 donors who believe children should be released from poverty in Education. Start your sponsorship story today by sending this child to school now!