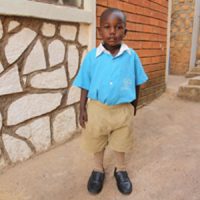 Rafael Juma
Age: 3
Gender: Male
Location: Kajjansi, Wakiso District, Uganda
---
Personal Information
Rafael Juma is a last born to his family of six. He lacks necessary things, such as shoes, toys, a bed with bed-sheets, and blankets and has almost no clothes. Rafael's mother has been looking for work, unfortunately, due to her refugee status, has been unable to find a job. Consequently, Rafael's mother is too weak to pay her family's necessities, let alone school fees. Rafael's mother provides her family with a limited support she gets from her husband who works hand to mouth.
After her family escaped from South Sudan in 2014, Rafael, his siblings, and mother lived in Kajjansi slum, in an outskirt of Kampala, Uganda. To supplement her husband's meagre income, Rafael's mother does odd jobs to make ends meet for her family in exile. Their combined salaries cannot pay house rent, food, and medical care, let alone school fees. Rafael is not attending nursery, and his siblings are not in school.  In Uganda, parents or guardians must pay school fees to fund school buildings, books, writing materials, school meals, and uniforms.
Rafael needs your love and support, so he can go a day nursery school, have regular meals, and escape a lifetime cycle of poverty. He is fit and a good-looking kid who enjoys playing with his toys.
By sponsoring a refugee child, you will join more than 3000 donors who believe children should be released from poverty in Education. Start your sponsorship story today by sending this child to school now!