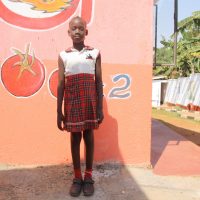 Sandra Amanya
Age: 9
Gender: Female
Location: Bulonde, Wakiso District, Uganda
---
Personal Information
Sandra Amanya is a 9 -year-old refugee from South Sudan, who lived and studied under extreme poverty. Continuing her primary education is not an easy task for her. From aged (6), Sandra had to struggle in a broken home by war, as her father left the family. Sandra, her mother, grandmother and siblings are living in exile in Bolunde slum, in the outskirt of Kampala, Uganda. Sandra is keens with her education. She needs your love and support so that she can go to boarding school, avoid terrible hardship, and realise her dream of becoming a school teacher.
Not too long after, Sandra showed tenacity when her mother, grandmother all became poor throughout her three years of studies by a war in South Sudan. Sandra needed to grow parallel with her education and to prepare her bright future.
Despite these tragedies and the difficulty to get an education because her mother cannot afford to pay her school fees, Sandra, young as 9 -year-old was convinced her future would be much worse without schooling. So she has been crying to return to school after she dropped out due to unpaid fees. Her mother, Mama Safari, does odd jobs and makes little income not enough to pay house rent, food, and medical care; let alone the cost of education. Her grandmother has no work and is staying home. In Uganda, parents or guardians must pay school fees to fund school buildings, books, writing materials, school meals, and uniforms.
Sandra needs your love and support, so she can go to boarding school to escape a lifetime cycle of poverty. She dreams of becoming a teacher when she grows up. Your monthly support will pay her school fees; provide her with food, clothes, and medical care; and prevent her from having to work odd jobs during school hours to help support her family.
By sponsoring a refugee child, you will join more than 3000 donors who believe children should be released from poverty in Education. Start your sponsorship story today by sending this child to school now!