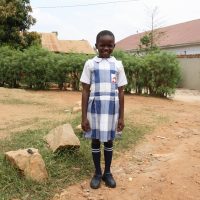 Nakijjoba Ndugwa
Age: 10
Gender: Female
Location: Kajjansi, Wakiso District,Uganda
---
Personal Information
Nakijjoba Ndugwa is a Ugandan and a first child in a household of three. As a girl from a divorced parents and an impoverished setting, she went through obstacles. She lacks necessary things such as a bed, blankets, bed-sheets, and has nearly no clothes, and textbooks. She needs your love and support to realise her dream of becoming an auditor.
Nakijjoba lives with her siblings and a single mother in Kajjansi slum, in the outskirt of Kampala, Uganda, where severe hardship is prevalent. To have a new beginning, and forgets her dark past; luckily, she chooses education. Her mother, a divorcee, had been asking for work around Kampala district, and until 2012, no company had offered her a job. In 2013, her mother got a job with a charity, and due to battered Ugandan economy her little pay is not enough to provide the family's basic needs and her children are not in school. Since their marriage fell apart (in 2006) Nakijjobo's father does not support his kids.
Before she drops out of school, Nakijjoba went to "Set Light Quality Education Centre, Kawuku." and attended P4 (four years primary education) and will fell behind, if she does not return soon.  In Uganda, parents or guardians must pay school fees to fund school buildings, books, writing materials, school meals, and uniforms.
Nakijjoba is a gifted student and needs your help, so she can go to boarding school to escape a cycle of poverty. Your monthly support will pay her school fees; provide her with food, clothes, and medical care; and prevent her from having to work odd jobs during school hours to help support her family.
By sponsoring a poor child, you will join more than 3000 donors who believe children should be released from poverty in Education. Start your sponsorship story today by sending this child to school now!