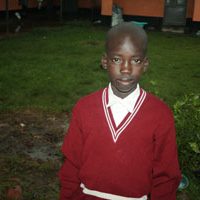 Mathew Hobbe
Age: 9
Gender: Male
Location: Kajjansi, Wakiso District, Uganda
---
Personal Information
Mathew Hobbe is a South Sudanese refugee living in extreme poverty in the slum of Kajjansi, an outskirt of Kampala, Uganda. He lacks basic things, such as shoes and a bed with sheets and blankets and has almost no clothes. Mathew's father has been unable to find work locally due to an accident. Mathew, his mother, and his two brothers live with his grandmother. His father moved out of the area to find work, when he can find one, it is always on construction sites. Mathew's grandmother is too old and cannot work. Mathew's mother works. So the family barely gets on Mathew's mother's intermittent income.
Mathew will turn (9) this year and should be at school. His family, however, cannot afford to pay his school fees. In Uganda, parents or guardians must pay school fees to fund school buildings, books, writing materials, school meals, and uniforms. Instead, Mathew is spending his days fetching water and doing other odd jobs to help his family survives. When he has some spare time, he loves to ride a bicycle, draw and play football (soccer). Mathew attended P2 (second year) at Ludia primary school, but he was stopped due to unpaid fees.
Mathew needs your love and support, so he can go to boarding school to escape a lifetime cycle of poverty. He hopes to become a pilot when he grows up. Your monthly support will pay his school fees; provide him with food, clothes, and medical care; and prevent him from having to work petty jobs during school hours to help support his family.
By sponsoring a refugee child, you will join more than 3000 donors who believe children should be released from poverty in Education. Start your sponsorship story today by sending this child to school now!