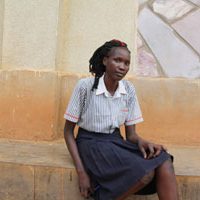 Mama Alil
Age: 15
Gender: Female
Location: Bulonde, Wakiso district, Uganda
---
Personal Information
Mama Alil lives in exile in a terrible hardship in Bulonde slum, in the outskirt of Kampala, Uganda; she fled a South Sudanese war three years ago. Essentially, Mama is a different girl in their family who cries for an education. Mama is due to write her primary leaving exam in November 2017 and will be left behind if she did not get a sponsor, because of overdue school fees. She needs your love and support so that she can go to boarding school, avoid extreme poverty, and realise her dream of becoming a medical doctor.
Mama (15), her nine siblings, and mother are living in Bulonde slum, in the outskirt of Kampala, Uganda, after they sprang South Sudanese strife when Nuer takes up arms against the Dinka-in government. Her father left at a start of the conflict and his wife is worried about his life. While in exile, Mama's mother had applied for a job in Wakiso district, however, because she has no specific skill, no company gave her work. Mama's mother does door to door laundry using her hand to make money so that she can pay house rent, food, and medical care for her family of nine ((9) children, who are not in school. Mama's mother income is inadequate to meet the cost of educating her loved ones. In Uganda, parents or guardians must pay school fees to fund school buildings, books, writing materials, school meals, and uniforms. Mama is a talented student and needs your help, so she can go to boarding school to escape a cycle of poverty. She is about to write her primary leaving exam in November 2017, but due to unpaid school fees, she will not sit her papers unless a sponsor pays the outstanding balance before the examination date. Your monthly support will pay her school fees; provide her with food, clothes, and medical care; and prevent her from having to work odd jobs during school hours to help support her family.
By sponsoring a refugee child, you will join more than 3000 donors who believe children should be released from poverty in Education. Start your sponsorship story today by sending this child to school now!