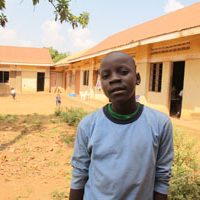 Edward Tombe
Age: 13
Gender: Male
Location: Bweya, Wakiso District, Uganda
---
Personal Information
Edward Tombe is a marvellous orphan who is about to complete his primary school in spite of caring for his two younger sisters when he, himself, a child. He is due to start his secondary school next year. Please sponsor Edward so he can continue his education, and achieve his dream of becoming a teacher or a professional footballer, and be able to help his siblings escape a lifetime cycle of poverty.
After both of his parents died, Edward and his two younger sisters fled South Sudan war to live as refugees in Bwaye slum outside of Kampala, Uganda. While in exile his aunt stepped forward to care for Edward and his younger ones. His aunt started a home bakery to generate income for school fees, house rent, and food. She didn't have enough resources and training, however, to compete with other bakeries, so his aunt business went under and they ended up homeless and hungry. His aunt's husband is a job seeker, lives in Juba, and gives no family support. His aunt, however, is too poor to pay school fees all of her children who are not in school, let alone Edward and his siblings. In Uganda, parents or guardians must pay school fees, to fund school buildings, books, writing materials, school meals, and uniforms.
His aunt a client of a microloan project operated by Hope Ofiriha in Uganda introduced Edward to HopeOfiriha. Since then, HopeOfiriha has been looking for a donor to provide for the children's basic needs and is working to find Edward a sponsor. Edward needs your love and support, so he can complete his day comer primary school, and continues on to a senior school, and help his siblings escape a lifetime cycle of poverty. He hopes to become a professional footballer or a teacher when he finishes his schooling. Your monthly support will pay his school fees and provide him with food, clothes, and medical care.
By sponsoring a refugee child, you will join more than 3000 donors who believe children should be released from poverty in Education. Start your sponsorship story today by sending this child to school now!