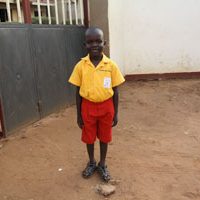 Aluma Dalglish
Age: 6
Gender: Male
Location: Bulonde, Uganda
---
Personal Information
Aluma Daglish Has Found a Sponsor!
Aluma Daglish is a South Sudanese refugee living in extreme poverty in the slum of Bulonde, an outskirt of Kampala, Uganda. He lacks basic things, such as shoes, bed-sheets, blankets and has almost no clothes. His father died in an ambush. Aluma and his siblings live his mum. Aluma's young uneducated mother has not been able to find any means of earning income. So the family barely gets on Alumna's relatives' intermittent a Hand OUT! – Not a Hand UP!
Aluma Dalglish does not have a sponsor. By supporting this child, you will provide this kid with a right education, food, uniform, and medical help if needed. We encourage you to pay monthly to accumulate sufficient cash in his account as school fees are paid at the start of each term and school requirements must be bought at the beginning of each term.
Aluma is (6) years old and the only boy to his family. He lives with his mum and four siblings as refugees in Bulonde, an area 12km from Kampala center since they fled a Southern Sudanese war. His dad lost his life in an ambush. He attended P1 classes at Marty Rubaga primary school before he was suspended due to unpaid fees. Now, he stays home until his outstanding amounts are cleared. He is a kind-hearted schoolboy.
Aluma's mum is jobless and depends on hand-outs from relatives and friends to care for the kids in exile. To be a pilot is her son strongest wish.
Remember! HopeOfiriha is a unique benevolent organization in the globe dedicated to African crisis. We can offer you a direct communication with this child. This gives extra control on how your donation is being spent and a personal relationship with the child (children if you want to sponsor several). Please, be informed your donation goes to the children. The administrative overheads are covered from other sources.
Aluma is waiting for your help to be in school again!