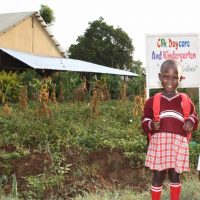 Aber Laura Atenga
Age: 6
Gender: Female
Location: Kajjansi, Uganda
---
Personal Information
Aber Laura Atenga does not have a sponsor. By supporting this child, you will provide this kid with a right education, food, uniform, and medical help if needed. We encourage you to pay monthly to accumulate sufficient cash in her account as school fees are paid at the start of each term and school requirements must be bought at the beginning of each term.
Aber is (6), and a second born in a household of 4 children. She lives in Kajjansi with her family, a suburb in the outskirts of Kampala after they fled a South Sudanese civil war. She is a kind and bright pupil. 
Aber is good in verbal English, drawing, singing, and dancing. She has three siblings, two brothers, and a sister. Her mother has no work and her father survived an accident. Both of her parents have no income to pay fees to keep her at school. Without outside help, she and her siblings will not go to school. It costs money to be educated in Uganda. She will be happy if you can support her education she has been yearning for months.
Remember! HopeOfiriha is a unique benevolent organization in the globe dedicated to African crisis. We can offer you a direct communication with this child. This gives extra control on how your donation is being spent and a personal relationship with the child (or children if you want to sponsor several). Please, be informed your donation goes to the children. The administrative overheads are covered from other sources.
Aber is waiting for your help to be in kindergarten!