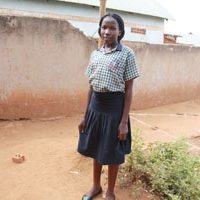 Vivian Imunu Fabian
Age: 14
Gender: Female
Location: Bulonde, Uganda
---
Personal Information
Vivian Imunu does not have a sponsor. By supporting this child, you will provide this kid with a right education, food, uniform, and medical help if needed. We encourage you to pay monthly to accumulate sufficient cash in her account as school fees are paid at the start of each term and school requirements must be bought at the beginning of each term.
Vivian is (14) years old. She lives in exile with her family in Bulonde, a neighborhood near Kampala after they fled from south Sudanese social unrest. Before she was suspended due to unpaid fees, she went to Airfield primary school.  Now she stays home and helps her mum with house chores. She has (4) siblings who are not in school as well. She is a marvelous teenager who is brilliance in English, history, and math.
 Her father stays and works in Juba. His meager salary is not enough to make ends meet for his family in exile. Her mum is jobless and not well. To educate Vivian and her siblings are beyond her daddy's monthly income.
Please, let's treat Vivian's case as an emergency since this's crucial concern. She sits her "Ugandan primary leaving Certificate exam" in November 2017.  She will pass to join a secondary school in 2018, her teacher says. Regrettably, she won't be permitted to sit until her fees in arrears are paid.
HopeOfiriha is appealing to anyone or a corporate donor to settle the unpaid amounts to enable this wonderful schoolgirl writes her exam – a unique prospect poverty is denying her!
She thinks highly of education and dreams to be a lawyer, care for her sick mom and help her siblings get an education.
Remember! HopeOfiriha is a unique benevolent organization in the globe dedicated to African crisis. We can offer you a direct communication with this child. This gives extra control on how your donation is being spent and a personal relationship with the child (or children if you want to sponsor several). Please, be informed your donation goes to the children. The administrative overheads are covered from other sources.
 Vivian is waiting for your help to be in school!